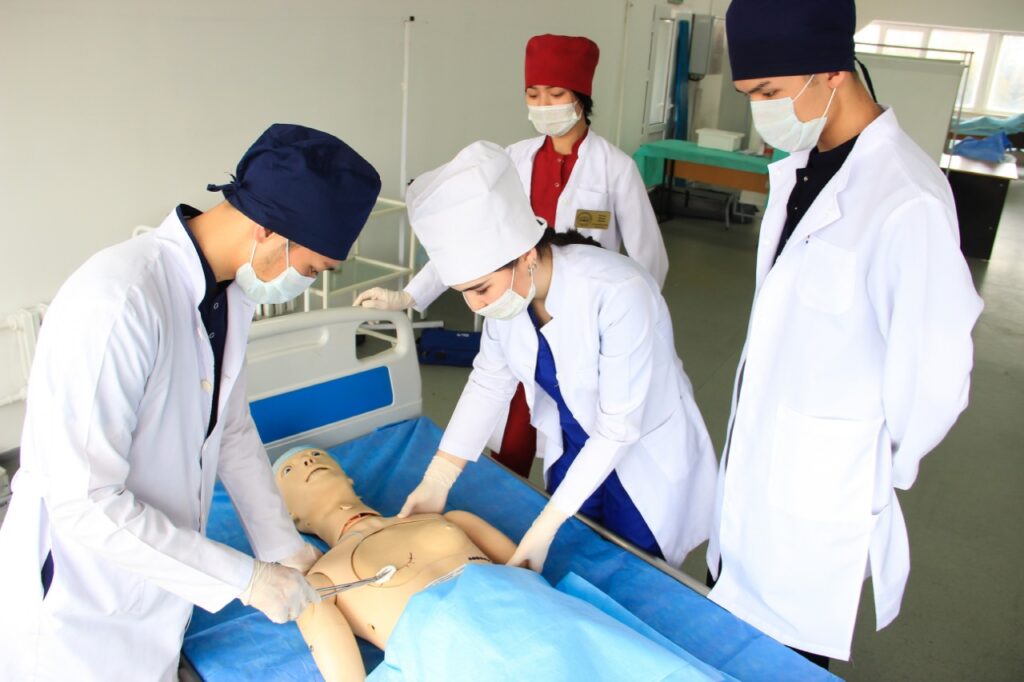 The center is equipped with equipment for simulation training and practicing practical skills. At the end of the semesters, midterm and final exams for graduates are held in the simulation center.
The simulation center was created in order to provide educational and methodological support for the training of medium-grade medical personnel in terms of practical knowledge and skills in accordance with the requirements of «State mandatory standard of education» and the reform of secondary medical education in the Republic of Kazakhstan.
The main educational objectives of the center are: development and consolidation of algorithms for performing various medical manipulations, individual training on training models under the guidance of instructors; development of clinical thinking and practical skills.
 Implementation and usage of simulation training is fundamental in the development of modern medical education. Only training of manual skills, based on modern theoretical medical knowledge, allows us to form highly qualified specialists who are ready to solve any tasks, including non-standard clinical tasks.
The main function of the Center is aimed at modernizing the continuous professional development of specialists, strengthening practical skills through simulation training for the development of diagnostic and therapeutic procedures, patient care skills, as well as providing additional educational services taking into account the needs of healthcare organizations.
The most important advantages of simulation technologies are training without harm to the patient and an objective assessment of the achieved level of professional training of each student. The usage of simulation technologies helps to reduce the number of professional mistakes.